Relevant Products: Signature Manager Outlook Edition
Scenario
You notice that the images are not showing in the Outlook Web Access (OWA) signatures when you compose an email.
The image appears as an empty box with a red cross, similar to this :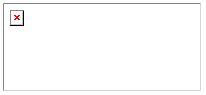 Resolution
No version of Outlook Web Access (OWA) supports the use of embedded images in email signatures. 

If you want to include images in an OWA email signature, you must do the following:
Host them on a publicly accessible website; that is, one that works for the widest possible audience and can be found by search engines.


Use this website's URL as the location for the image templates.
If the images are on your local domain or the workstation with Signature Manager Outlook Edition installed on it, you will not be able to use them in an OWA signature until they are uploaded to a website.