WARNING!  The following products were discontinued on 30 June 2021 and are no longer available for purchase or supported:
- Exclaimer Auto Responder
- Exclaimer Email Alias Manager for Exchange  
- Exclaimer Mail Archiver
For more information, please see the Discontinued Questions and Answers page.
Scenario
You wish to change the time zone or the date/time format when searching for messages in Mail Archiver.
Resolution
See the instructions below to configure the date and time as required:
Within the Mail Archiver Outlook Add-in:
The time zone and language settings are set when signing into the Mail Archiver Outlook Add-in: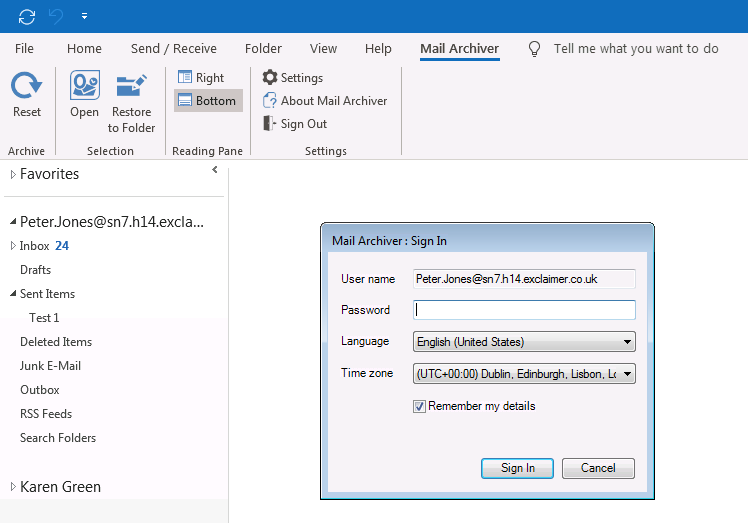 If you have already signed in and need to change the settings:
Select the Mail Archiver Outlook Add-in tab in Outlook
Click Search


Click Sign Out



Click Search again
When prompted, re-enter your password and set the required language and time zone.
Within the Mail Archiver Web Search:
When you open Mail Archiver Web Search you can specify the Language and Time zone on the sign in screen: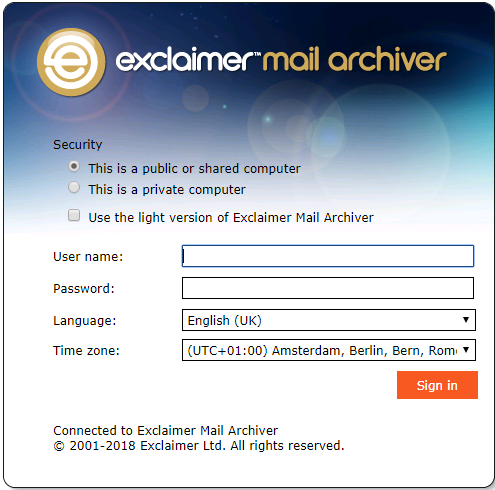 The default settings for these are controlled as follows:
Language - This is the default language as specified in your web browser. If you change your browser's default language then you will also need to clear the browser cache before the correct value will be shown.
Time zone - This is the time zone of the server where Mail Archiver Web Search is installed. If you change the server's time zone then you must restart the Mail Archiver Web Search Site in IIS before the value will be updated in your browser.
Within the Mail Archiver console:
The date format and time zone are shown as per the server's own date and time settings.