WARNING!  The following products were discontinued on 30 June 2021 and are no longer available for purchase or supported:
- Exclaimer Auto Responder
- Exclaimer Email Alias Manager for Exchange  
- Exclaimer Mail Archiver
For more information, please see the Discontinued Questions and Answers page.
Exclaimer Mail Archiver allows end-users (by default) to view all their archived emails, even on smartphones and tablets, in the web-based search UI. You can add your own branding to the search UI.
 
Any image in the web search UI can be replaced. You can add your brand to the login screen, search results, the homepage just before a search is made and so on.


Adding your own brand 
To add your own brand to the Mail Archiver Search user interface:
If you installed the Exclaimer Mail Archiver somewhere other than the default location, then replace everything before '\WebSearch' with the directory you're using.

For example:



C:\Program Files\Exclaimer Ltd\Mail Archiver\WebSearch\Content

Navigate to the address provided (make sure to edit the location if you have installed Exclaimer Mail Archiver somewhere other than Program Files).
 
For convenience sake, all images are marked with its filename in the screens below.

To brand an image, either edit the desired file or replace that file with another image with the same file name and dimensions. 
Login Screen
Note: The backdrop may be displayed as either a single image or three combined. You'll need to replace all of them to ensure your branded version appears.

Rich Search Logo

Light Search Logo

We recommend:
You create your branded image somewhere else.
- Create a copy with the filename for the image you want to replace, then
- Move that image into the
Mail Archiver
images folder. A dialog box is displayed, prompting whether you want to copy and replace this image (among other options). Select
Replace the file in the destination
to proceed: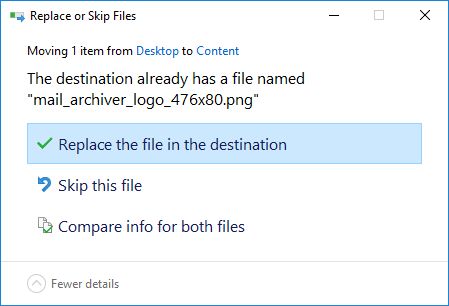 The next time you enter the Mail Archiver search, your new image (or images) will be visible.