WARNING!  The following products were discontinued on 30 June 2021 and are no longer available for purchase or supported:
- Exclaimer Auto Responder
- Exclaimer Email Alias Manager for Exchange  
- Exclaimer Mail Archiver
For more information, please see the Discontinued Questions and Answers page.
Mail Archiver can be installed on any server, but we do have the following recommendations:
We recommend installing on a Windows Server / File server.
Do not install Mail Archiver on a DC or a Mail Exchange Server.
Do not install on a machine with a Desktop OS.
White-list any Mail Archiver folder locations on your Anti-Virus.
With the above recommendations and following the below guides you should avoid any issues during your setup of Mail Archiver.
Initial Setup
At download, you'll receive a file called 'Setup.exe' double click this to run the setup.
The first window will as you to decide which components you want to install, tick the relevant ones and click
'Next'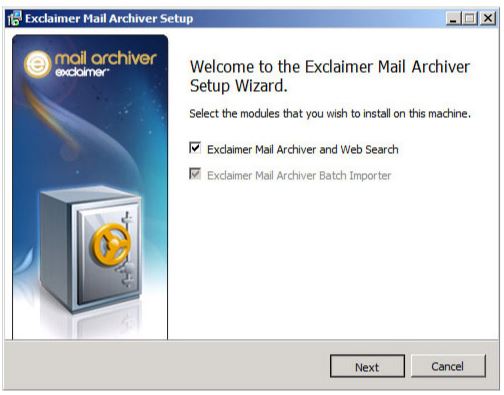 Accept the terms and conditions, then click
'Next'.
The installer will run a per-requisite check to make sure you have some necessary components installed. If you don't it can download and install them for you.
When all the prerequisites are confirmed as present, click '
Next'.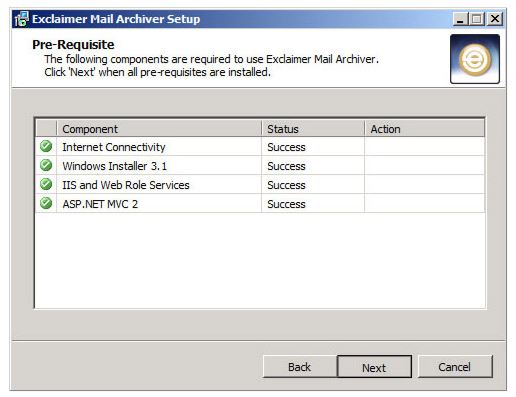 Confirm the location you want to install Exclaimer Mail Archiver to. By default, it will go to
'Program Files'
. Click
'Next'.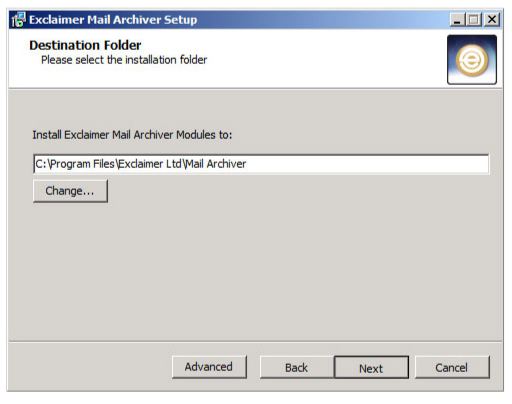 Installation will now begin.
When it's complete, click
'Finish' 
and you will be to launched into the First Use Wizard.
The first Use Wizard
The first screen explains what we will do during the wizard - create our first archive store and set up a journaling mailbox. Click
'Next'.


Here, we'll set up our first archive store. As the archive is stored as files within folders, you can select any area that accommodate files and folders e.g. a NAS, your hard drive, the cloud etc. When you're ready, click
'Next'.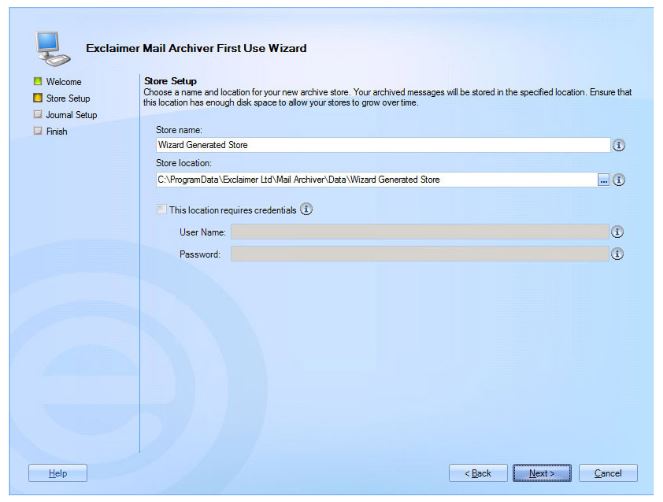 Then, we'll set up our first journaling mailbox. If you have one already, you can select it in the above box. If you don't, we can create a new one with the username and password you enter on this screen. When you've selected or created your mailbox, click
'Next.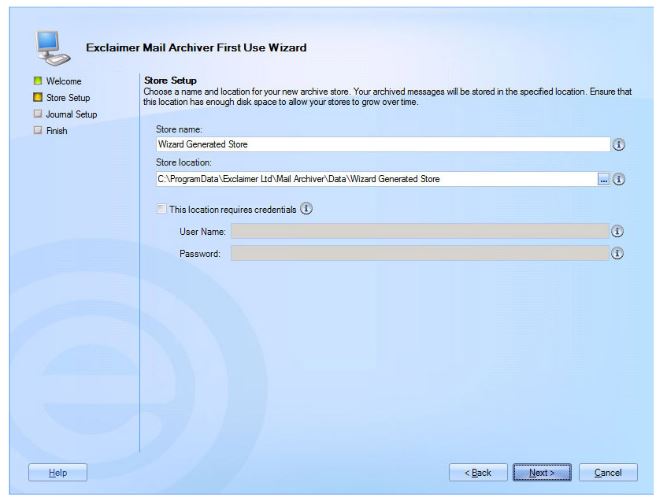 Wait a moment while a PowerShell script creates the new journaling mailbox and journaling rule, which will archive all emails to and from all users by default. Click 'Next'. If you aren't running the installer on an Exchange server, you'll have to run this PowerShell script manually on Exchange.
The wizard will then Autodiscover the Exchange Web Services UI. When that's complete, you can click
'Finish'.

You've finished setting up Exclaimer Mail Archiver.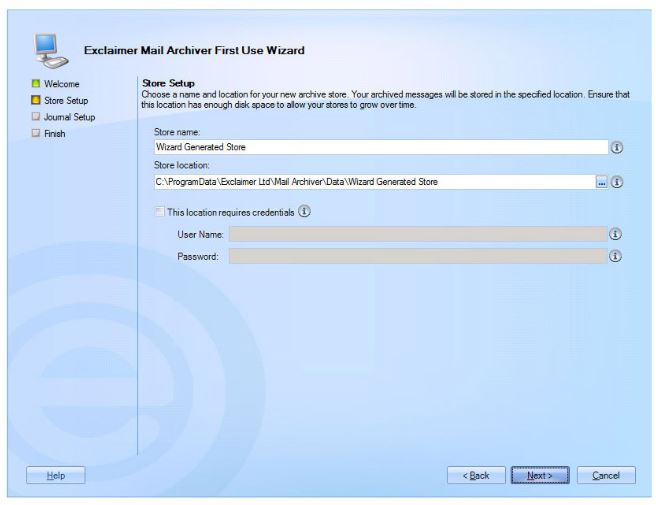 Restore To Mailbox
A common requirement with Archived emails is the ability to restore these mails to the user's mailbox.


We're going to show you how to set up 'Restore to Mailbox' so users can return any email they find in Search back to their mailbox.

To start click the 'Mail Archiver' icon in the directory on the left.

Click the 'Settings' tab, then click the 'Configure' button midway down the page.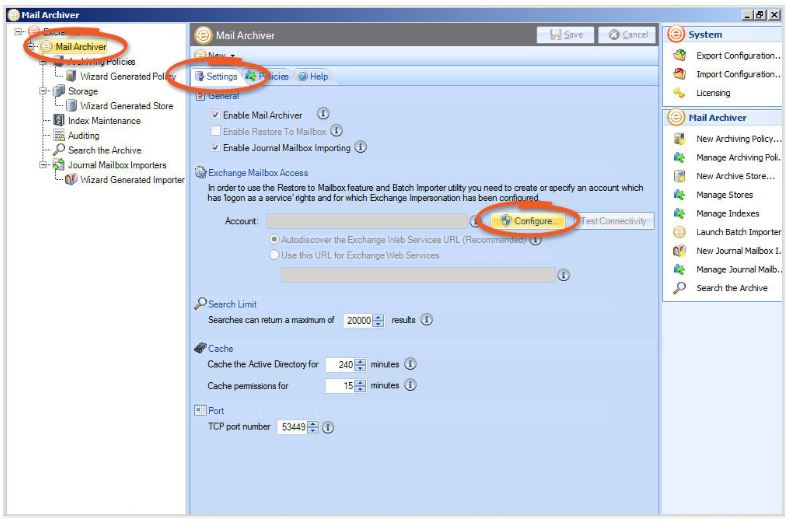 We're going to create a mailbox account which can access the Archiver and bring email into the user's mailbox, so they can see it in Outlook.
This account is also necessary for Batch Importer and the 'forward message' in Web Search. If you already have an account that meets the criteria we mention on this screen, e.g. 'log on as a service' rights, enter the username and password for it here.
If not, click
'Next'.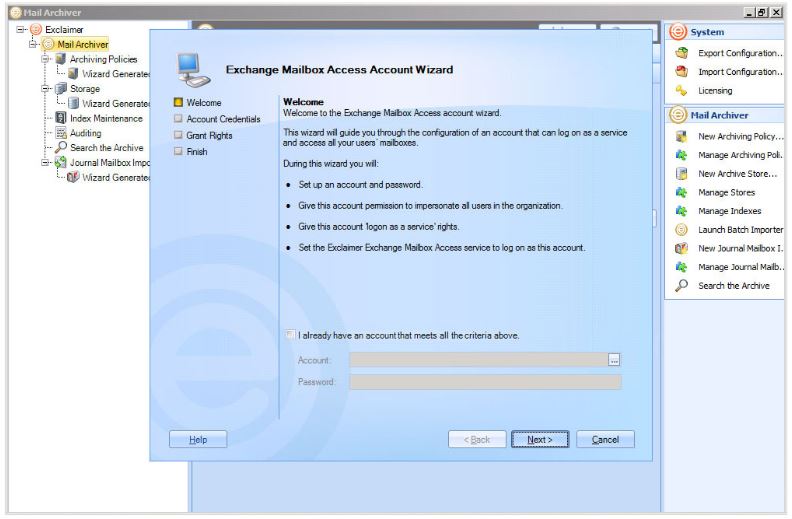 A username is provided by default, though you can change this if you wish.
Enter a password for the new account and click
'Next'.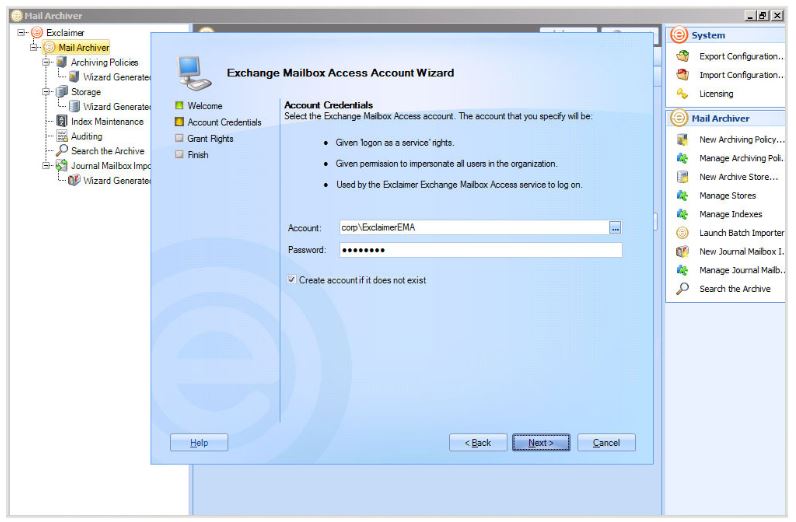 Two PowerShell scripts will run, or if you have installed the Archiver elsewhere (as is recommended), you will need to run them manually on your Exchange server: one to create the account and one to give appropriate permissions. When each is complete, click
'Next'.


Click
'Finish'
and then click the box beside
'Enable Restore to Mailbox.
Then, click the
'Save'
button in the top-right corner of your screen.