Related Products: Signature Manager Exchange Edition | Signature Manager Outlook Edition | Template Editor
WARNING! From 1st April 2021 Exclaimer will no longer be renewing any Software Maintenance Agreement (SMA) for Mail Disclaimers.
Please be assured that the Exclaimer Support team will provide support until your SMA is active.
However, we recommend that you contact the Exclaimer Sales team to discuss your requirements for an upgrade to Signature Management Exchange Edition or Exclaimer Cloud - Signatures for Exchange.
Scenario
The signature template displays as black font colour, in new emails but, in a forward and or reply e-mail, the font colour changes to a different colour, such as blue. 
Resolution
The colour code #000000 or Black will convert to Window Text, caused by the mail client itself.
To prevent this issue from occurring, it is recommended to use the colour code #000001 either using the Field Properties, or the source code using<span><span> tags, instead. 
This colour code is universally read and will ensure the fonts stay the correct colour in all mail clients and devices. 
Field Properties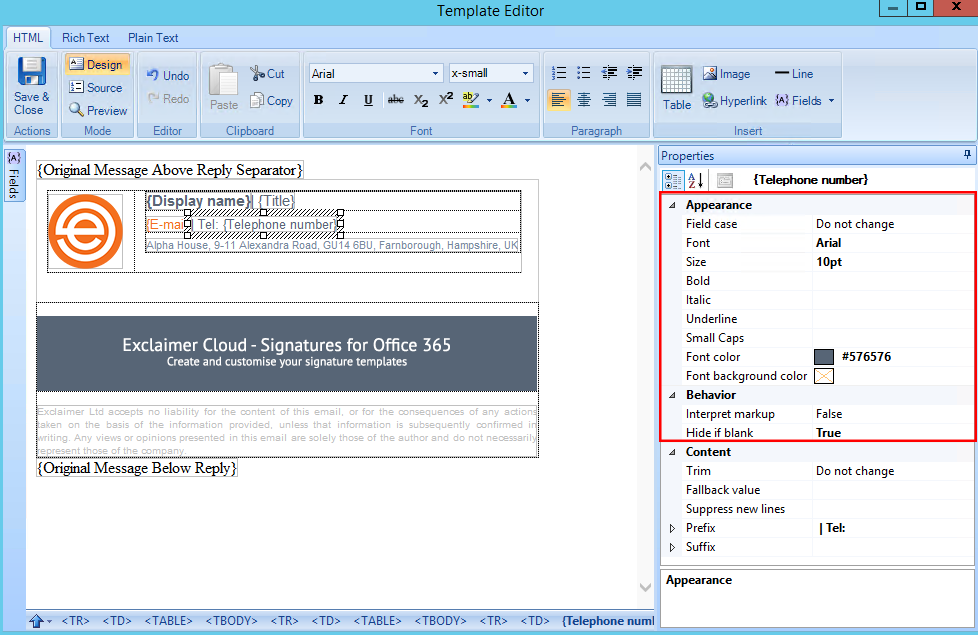 Source Code